We don't need studies to tell us that sitting for extended periods of time can be harmful to our health because our bodies feel the strain and give us signals that say, 'sitting for 10-plus hours per day is too much'. The commute to and from work combined with sitting all day at the workplace leave our bodies feeling cramped, ached, and lethargic. Some people try to exercise to compensate for extended sitting periods at the desk, but even studies show that the morning run or after work swim, can't make up for all the time spent in your chair at work.
Men's Health Magazine tells us "the amount of time you exercise and the amount of time you spend on your butt are completely separate factors for heart-disease risk. New evidence suggests, in fact, that the more hours a day you sit, the greater your likelihood of dying an earlier death regardless of how much you exercise or how lean you are. That's right: Even a sculpted six-pack can't protect you from your chair. But it's not just your heart that's at risk from too much sitting; your hips, spine, and shoulders could also suffer."
Our solution: The height-adjustable work style; a work style that allows you to sit AND stand throughout your workday. Our number one suggestion on how you can adopt a sit-to-stand personal work routine involves using a sit-to-stand desk.
To have the ability to adjust the height of your desk, you can create a DIY sit-to-stand desk or purchase a height-adjustable desk that suits your needs. Of course we can help you plan for your new sit-to-stand work style by listing tips and suggesting height-adjustable products that can help you develop a new work routine.
Tips to Help You Adopt a Sit-to-Stand Work Style:
1. Take mini breaks by walking to the break room to hydrate and energize.
2. Exercise when possible (before work, during lunch, or after work).
3. Place items out of reach (e.g. keep printer at a distance for an excuse to stand).
4. Pace while you talk on the phone.
5. Set reminders on your daily calendar to alert you to adjust the height of your desk.
Height Adjustable Product Suggestions:

Float Height-Adjustable Table by Humanscale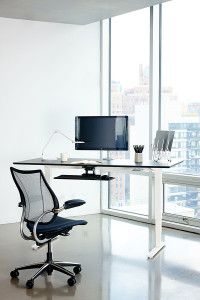 Everywhere Tables by Herman Miller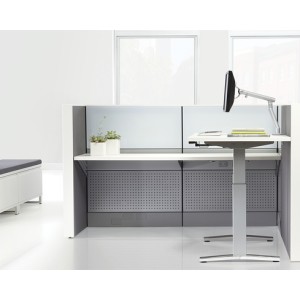 Pinnacle AD Keyboard Tray by Workrite allows you to sit or stand while typing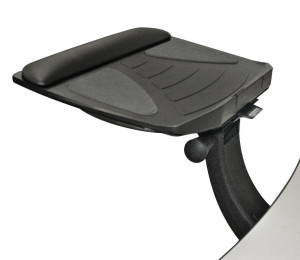 Contact us at info@officeworld.com for more information on sit-to-stand solutions and when you need a reminder of why you should be sit/standing, remember that Winston Churchill, Leonardo da Vinci and Ernest Hemingway did it and so can you.